The Elkin Municipal Park is a 25 acre multi-function recreation space that includes lighted tennis courts, scenic walking track, children's playground, athletic fields, nature trail, picnic shelters, and band shell. It is a bustling park that plays host to countless athletic contests, private functions, and special events throughout the year. This park has two baseball fields, soccer fields a one mile walking track, outdoor tennis courts two playgrounds, fishing pier an outdoor pool, two picnic shelters and the Elkin Recreation Center. It also hosts the 'Muster Ground" for the National Historic Overmountain Victory Trail and the North Carolina Mountains to Sea Trail. The park also provides parking and access to five miles of Mountain Bike Trail and one and a half miles of greenway along the Elkin Creek.
T
rails close daily from Sunset to Sunrise
All Parks close daily from 1:00am - 5:00am
RENTAL INFORMATION & PARK PERMITTING
Park Rules & Regulations: Click for information on the rules and regulations enforced on Town of Elkin Parks and property.
Shelter Rental -
All reservations are made on a first-come, first-serve basis. Shelter reservations are posted at the different shelters. It is advised that all renters keep a copy of their receipt for proof of rental should there be any on site issues. All rentals are for a 3 hour minimum and we place 1 hour between all rentals for check in and check out.
Shelter #1: Resident Rate - $25 Non-Resident Rate - $50 Additional time is $5 per hour.
G&B Shelter:
Resident Rate - $20 Non-Resident Rate - $40 Additional time is $5 per hour.
Park Rental Permit
:
Click, p
rint
and complete a rental permit for a shelter or other area of the park. It is recommended to call ahead to check on a date for your rental. Rentals are booked at time of payment.
Special Events Permit
: Click, print and complete a permit for a special event in the park or other areas of the Town of Elkin. All permits must be pre-approved prior to the event.
Consent Form for FAA registered UAS
:
Consent Form must be filled out completely and returned to the Elkin Recreation Center for approval. Approved operators must abide by all FAA regulation and have a copy of the consent form on your person while operating on town property

.
Located along the Yadkin River, Crater park features a baseball/softball field, multi-use fields, river access with boat ramp, restrooms, and primitive camping. It is the home field for Elkin High School softball and serves as the practice facility for Jr. Elks Youth Football.
Camping is provided for those paddling the Yadkin River only and not for car camping or recreation vehicle camping. Campers should call ahead to Elkin Recreation and Parks (336-258-8917
) to insure that bathroom facilities are unlocked. The Elkin Police Department and NC Fish & Wildlife Officers patrol the facility daily.
Crater Park is also home Elkin Dog Park operated by the Friends of the Elkin Dog Park
. This space is provided for dog owners to allow their pets to run "off-leash" in a fenced in area. A small and large dog area is provided for pet owners to use. Please read and follow the posted rules and regulations. The dog park is located across the street from the playground.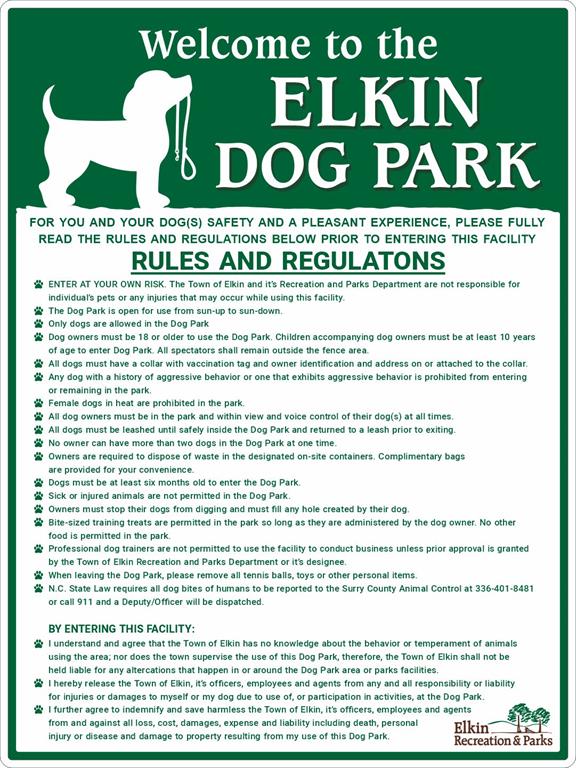 The river access at Crater Park
is managed in partnership with the North Carolina Wildlife Resources Commission. Use of the access is free to the public, swimming and fishing from the access ramp are prohibited.