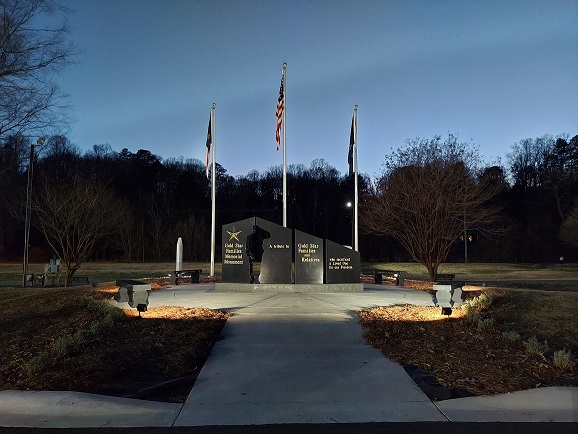 The Elkin Municipal Park is a
25-acre
multi-function recreation space that includes lighted tennis courts, scenic walking track, children's playground, athletic fields, nature trail, picnic shelters, and band shell. It is a bustling park that plays host to countless athletic contests, private functions, and special events throughout the year. This park has two baseball fields, soccer fields a
one-mile
walking track, outdoor tennis courts two playgrounds, fishing pier an outdoor pool, two picnic shelters and the Elkin Recreation Center. It also hosts the 'Muster Ground" for the National Historic Overmountain Victory Trail and the North Carolina Mountains to Sea Trail. The park also provides parking and access to five miles of Mountain Bike Trail and one and a half miles of greenway along the Elkin Creek.
The
Captain Mark Garner
Elkin VFW Post 7794 sponsored and partnered with the Town of Elkin for a Gold Star Memorial.
T
he Monuments provide a place of permanence for Gold Star Families to gather and utilize as they see fit. These Monuments belong to them and their fallen Loved Ones. They are intended to achieve the following goals:
Establish and provide a space the Gold Star Families can call their own in honor of their Loved Ones and their family
Demonstrate to Gold Star Families that their community cares for them and appreciates their sacrifice while also honoring the ultimate sacrifice of their Loved Ones
Establish and strengthen local Gold Star Family communities through Gold Star Family outreach events associated with each monument location
Educate the general public about Gold Star Families' enduring sacrifices and the ultimate sacrifice made by their Loved Ones
Gold Star Families Memorial Monuments are a two-sided tribute made of black granite. One side bears the words: Gold Star Families Memorial Monument, a tribute to Gold Star Families and Relatives who sacrificed a Loved One for our Freedom. On the other side of the monument, there are scenes etched on each of the four panels: Homeland, Family, Patriot and Sacrifice. At the center of this tribute, is a silhouette of a saluting service member which represents the Legacy of the Loved Ones who have paid the ultimate sacrifice for our Freedom. Together, these features tell each community's unique story based upon the Pillars of the Foundation.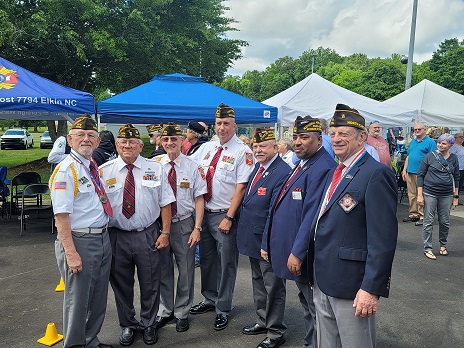 T
rails close daily from Sunset to Sunrise
All Parks close daily from 1:00am - 5:00am
RENTAL INFORMATION & PARK PERMITTING
Click below for information on park ordinances:
All picnic shelter and pool party rentals will be on-line at elkin.recdesk.com.
Users will need to create a profile and then select a facility to reserve and clickable facility calendar will be available for view. Special events, races, festivals will need to complete paper permits for review.
To log in or create your user account, click
HERE
.
Step 1 - Log in at the upper right corner of the page. If you haven't a log in, then you will need to create a user profile. The user profile will need to be approved and may take up to 24 hours for approval.
Step 2 - Once you log in, click on the "Parks & Facilities" tab and then drop down to "Facilities" and click.
Step 3 - Click on the Shelter you want to rent and proceed through the rental progression.
Park Rules & Regulations: Click for information on the rules and regulations enforced on Town of Elkin Parks and property.
Shelter Rental -
All reservations are made on a first come, first-serve basis. Shelter reservations are posted at the different shelters. It is advised that all renters keep a copy of their receipt for proof of rental should there be any on site issues. All rentals are for a 3-hour minimum, and we place 1 hour between all rentals for check in and check out.
Shelter #1: Resident Rate - $25 Non-Resident Rate - $50
G&B Shelter:
Resident Rate - $20 Non-Resident Rate - $40
You may rent more than one time slot if the time of the rental does not match your event needs and if the rental time is available.
Consent Form for FAA registered UAS
:
Consent Form must be filled out completely and returned to the Elkin Recreation Center for approval. Approved operators must abide by all FAA regulation and have a copy of the consent form on your person while operating on town property

.
Located along the Yadkin River, Crater park features a baseball/softball field, multi-use fields, river access with boat ramp, restrooms, and primitive camping. It is the home field for Elkin High School softball and serves as the practice facility for Jr. Elks Youth Football.
Camping is provided for those paddling the Yadkin River only and not for car camping or recreation vehicle camping. Campers should call ahead to Elkin Recreation and Parks (336-258-8917
) to insure that bathroom facilities are unlocked. The Elkin Police Department and NC Fish & Wildlife Officers patrol the facility daily.
Crater Park is also home Elkin Dog Park operated by the Friends of the Elkin Dog Park
. This space is provided for dog owners to allow their pets to run "off-leash" in a fenced in area. A small and large dog area is provided for pet owners to use. Please read and follow the posted rules and regulations. The dog park is located across the street from the playground.
The river access at Crater Park
is managed in partnership with the North Carolina Wildlife Resources Commission. Use of the access is free to the public, swimming and fishing from the access ramp are prohibited.