Elkin & Alleghany Rail Trail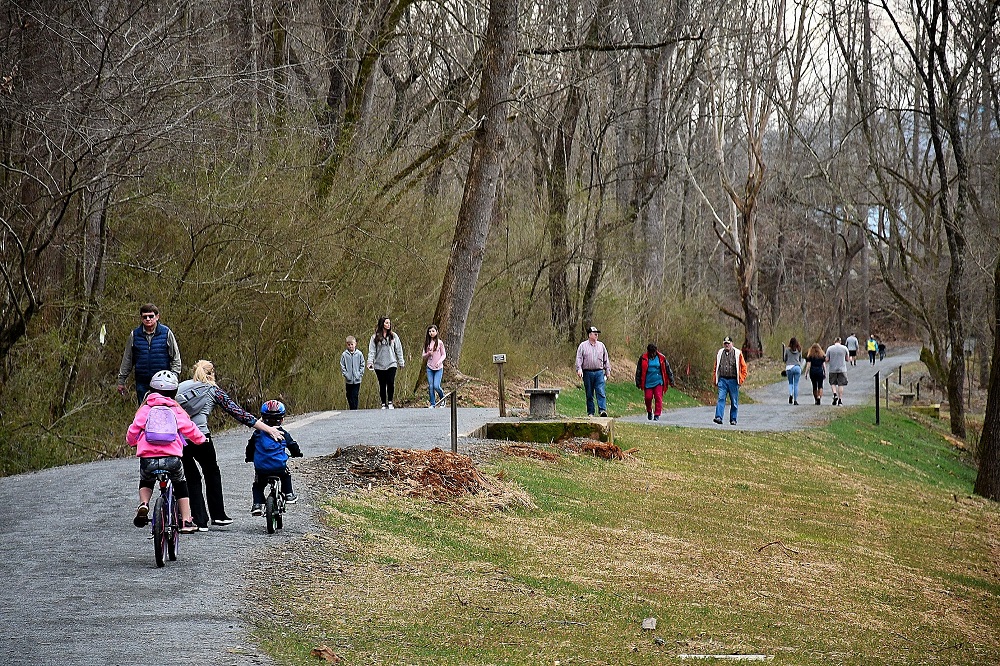 The Elkin & Alleghany Rail-Trail is a walking and biking trail beginning in the Elkin Municipal Park and walk along the old Elkin & Alleghany Railroad bed to the Town of Elkin Reservoir and beyond.
ELKIN CREEK MOUNTAIN BIKE TRAIL
The trail is considered closed after heavy rains and while the trail is muddy and wet.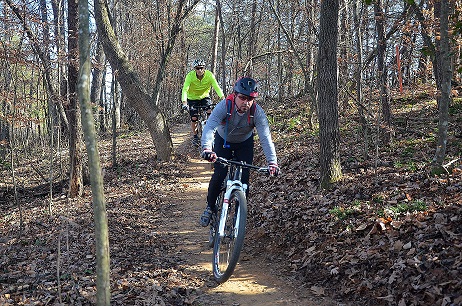 Come out and ride the new Elkin Creek Mountain Bike Trail. This course follows the hills and hollers of the Elkin Creek and is located on public and private land. The trail is accessed through the Elkin & Allegheny Trail Greenway.
The Greenway is used for walkers and bikers alike, those on bikes are asked to use a safe slow speed to avoid collisions.
MOUNTAIN BIKING IS AN INHERENTLY DANGEROUS AND HIGH RISK ACTIVITY THAT REQUIRES A TECHNICAL SKILL LEVEL. ALWAYS BE AWARE OF YOUR SURROUNDINGS, WEAR A HELMET AND SHARE THE TRAIL.
THIS TRAIL WAS DESIGNED SPECIFICALLY FOR THE SPORT OF MOUNTAIN BIKING; USE OF THIS TRAIL IN ANY OTHER MANNER MAY BE HAZARDOUS AND IS AT YOUR OWN RISK. ALL USERS SHOULD YIELD THE TRAIL TO MOUNTAIN BIKERS.
TRAIL FLOW:
November 1 - March 31: Use first entrance at dam.
April 1 - October 31: Use second entrance
1/10 of a mile beyond the second bridge.
TRAIL MAP: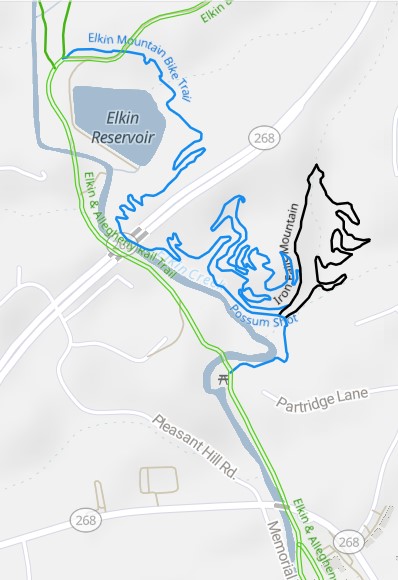 TRAIL RULES:

Pedestrians that use the Mountain Bike Course do so at their own risk.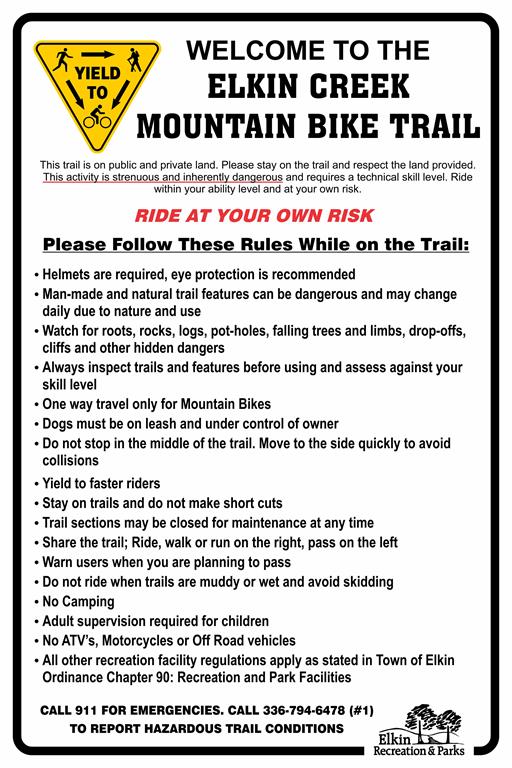 Great article from the NC League of Municipalities highlighting the work completed by this community on trails!
Overmountain Victory Trail
Thanks to the hard work of the Town of Elkin and volunteers, Elkin can boast a segment of the historic Overmountain Victory Trail, a Federal linear park, which follows the route of the Overmountain Men as they made their way to the Battle of King's Mountain in the Revolutionary War. This trail begins at Elkin Municipal Park and currently runs west along the Yadkin River. EVTA and the Town of Elkin are working with the Overmountain Victory Trail Association to enhance and extend this trail. For more on the Overmountain Victory Trail, visit
ovta.org
and
nps.gov/ovvi
.
Master plan efforts for the trail are ongoing,
click the link below for a brief video.
(Video Provided by Destination by Design)
ELKIN VALLEY TRAILS ASSOCIATION
The EVTA is a local interest group that has a primary focus of developing trails in the local community. For the current trail happenings and events, visit the EVTA website
elkinvalleytrails.org
Kids in Parks provides a network of family friendly trails, called TRACK Trails, that connect various public lands in an attempt to get kids "unplugged", outdoors and reconnected with nature for their health and the health of our parks. Each TRACK Trail has a series of brochure-led self-guided adventures designed to turn an ordinary hike into a fun-filled adventure. Furthermore, kids earn PRIZES for TRACKing their TRACK trail adventures in their online journal on the Kids in Parks website. Elkin TRACK Trail Website.
The Yadkin River Trail is 125 miles long and begins east of W. Kerr Scott Reservoir in Wilkes County, meandering through Elkin and towards Winston Salem. The river is mostly flat, with class I ripples and a few class II areas; perfect for kayak or canoe. The Elkin access is located at Crater Park, with primitive camping allowed for paddlers only. Call ahead to Elkin Recreation and Parks for access to bathrooms (336-258-8917).
Please refer to the Yadkin Riverkeeper website for planning your paddling trip.
Fishing is allowed at the fishing pier located inside the Elkin Municipal Park and along sections of the Big Elkin Creek. All fisherman must have a valid NC fishing license. The department participates in the NC Tackle Loaner Program, click HERE for more information. Please call in advance to loan out fishing tackle. If you are 16 years and older you are required to have a fishing license. License may be obtained by clicking HERE.
Catfish: NC Wildlife stocks the portion of the Big Elkin Creek near the Eldon Parks Memorial Bridge during the months of May, June and July.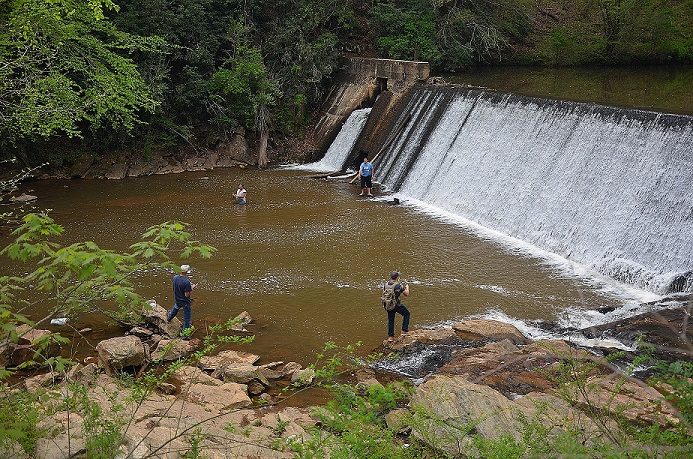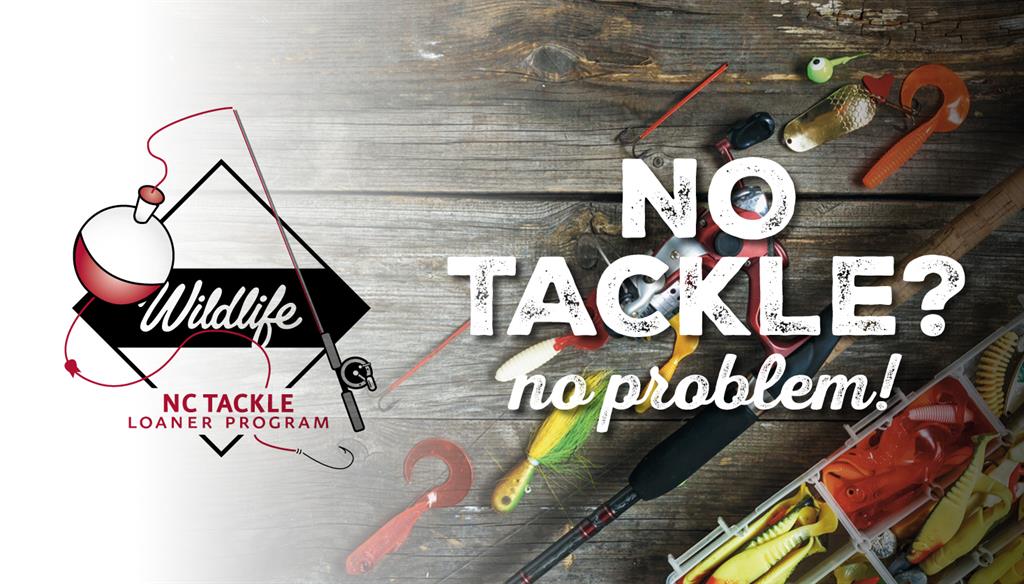 Click
HERE
for Tackle-Loaner program form. Form must be printed, fully completed and delivered to the Elkin Recreation Center within normal operating hours. All equipment must be returned within normal operating hours.
Trout: Trout fishing is permitted as part of the NC Wildlife Hatchery Supported Trout Waters.
From the NC Wildlife Regulations on Mountain Trout:
Big Elkin Creek (Dam 440 yards upstream of N.C. 268 bridge to
a point 265 yards downstream of N.C. 268 [marked by a sign on each bank])